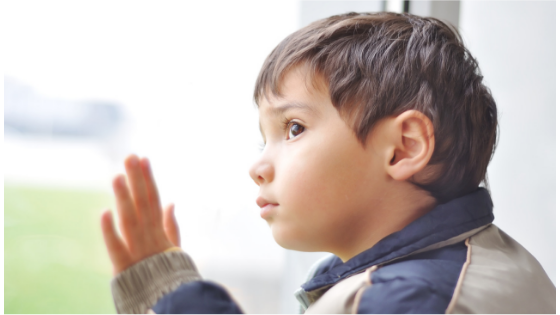 10 Fun Indoor Activities For Days Kids Can't Get Out
10 Fun Indoor Activities For Days Kids Can't Get Out
It is so hard when kids are cooped up indoors for too long. They often get in trouble because they have too much energy or get too bored because they want to be out and can't go. So they often find inappropriate options to keep themselves entertained. I know my son does. Ask his sister. He often pesters her, and then fighting erupts.
So what can you do when kids can't get out but need something to do?
Here are some fun indoor activities for kids to help beat boredom.
Indoor Activities to Burn Off Energy
Indoor Activity 1: Obstacle Course and Laser Beams
For some of our birthday parties, I made obstacle courses with "laser beams" as part of it. The kids had so much fun with this, and they kept going through it repeatedly.
You can make an obstacle course with 2X4s to walk across (or a piece of tape), cushions can become stepping stones or rocks to leap over, and chairs and tables can be a bridge to crawl under. There are so many different things to do depending on your space and materials available.
Next, add laser beams. A narrow hallway works well, but I have used a more open space and attached laser beams to shelves, the ceiling and floor. I've always used streamers for the laser beams, but I'm sure yarn would work well, too. You'll want to tape the streamers diagonally, horizontally, or vertically across the area. Arrange them so kids need to step through or crawl under the beams.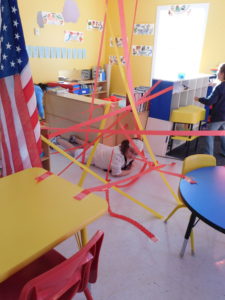 It is a great activity for when kids need to get their wiggles out.
Indoor Activity 2: Scavenger Hunt
Creating a scavenger hunt is another way to get kids moving. Provide clues that are hidden all around the house. Have a clue in one room and the next leads them all the way on the other side or on another floor.
The fun thing with a scavenger hunt is you can get as creative as you want. You can make rhyming clues, clues in code, or picture clues. If you aren't feeling creative you can make simple clues.
Another variation of this is to hide several items around the house for the kids to find. For example, you can hide a certain number of blue blocks, cars, paper hearts, or Lego figures around the house. See if they can find them all or see who finds the most.
Indoor Activity 3: Hopscotch or Line Jumping
Masking tape is such a great invention. My floors have been covered with masking tape for one reason or another for activities with my kids or my preschool.
Indoor Hopscotch
One fun thing to do is make an indoor hopscotch with masking tape. You can make a traditional hopscotch or make one where the squares are more spread apart or in a winding pattern.
Line Jumping
Another fun thing to make with masking tape is lines. I like to put down lines horizontally in a ladder pattern. Kids stand on the first line and see how far they can jump. Younger kids may enjoy jumping from line to line. You can also have lines that wind around the room, and they need to jump from one to the other.
Indoor Activity 4: Dancing
GoNoodle
Another way to get kids moving is with GoNoodle. My kids love GoNoodle. It has different movement activities for kids to choose from. Some are short and some are longer. My son likes to choose Indoor Recess clips because they are longer.
YouTube
YouTube is another place you can find some cool dances for kids to do and other exercises for kids. I sometimes find Zumba for Kids videos.
Freeze Dance
If your kids don't feel like just dancing around to music, you can make a game of it. Freeze Dance is a lot of fun. The object of the game is to see if you can catch someone dancing when the music stops.
To play you start up the music. The kids will begin dancing. At some point, pause the music and see if you can catch someone still dancing once it stopped. You can either eliminate the player or keep score how many times someone gets caught.
I've done this game with kids of all different ages, and they love it.
Indoor Activity 5: Homemade Games
I have made some homemade games over the years for my kids, preschool, and for Cub Scouts. The kids enjoyed them and often make similar games themselves later on.
Bean Bag Toss
Kids love the challenge of a Bean Bag Toss. You can make your own at home if you don't have a store bought set.
You can make your own bean bags a few ways. You can do so by cutting out circles and sewing them into pouches filled with beans. You can also take some felt or heavy material, fill it with dried beans (or whatever you have to give it weight) and staple it together. In a pinch, you could probably fill a toddler's sock with beans or rice and tie it off to make a bean bag.
Now you need something to toss the bean bags into. You can use buckets or containers spaced out at different distances to toss them in. You can also take a big piece of cardboard and cut one hole or several holes in it. Another option is making targets on the floor to hit. Here is where masking tape can come in handy.
Ring Toss
Another fun game to make is Ring Toss. I have made this two ways. One way I've made this game is by cutting rings out of cardboard and taped pennies on them for weight. Then I put clothespins around the rim of a 5- gallon bucket for the kids to toss the rings on. I found this idea in my Cub Scout Den Leader Guide for Bears.
The other way we have played this game is by cutting and adding weights to the cardboard, but this time they had to toss their rings onto my kids' old baseball tee.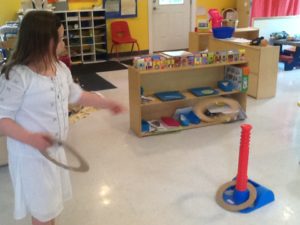 Both are very basic indoor games but add some activity into the day when the kids are stuck inside.
Indoor Activities to Beat Boredom
Indoor Activity 6: Arts and Crafts
If the kids are bored, I will find an arts or crafts project for my kids. I may search my ever-growing Pinterest board for ideas, or I let them have free access to all our arts and crafts supplies. What kid doesn't love having full access to paint, glitter glue, googly eyes, and pipe cleaners?!
There are also some great arts and crafts kits that are good to have on hand. You can get some great ideas in 15 Great Gift Ideas for the Crafty Kid.
Indoor Activity 7: STEM Activities
We love doing STEM activities in our homeschool. They are fun, creative, and will keep the boredom at bay.
You can find some fun STEM activities below:
Indoor Activity 8: Board Games
Board Games and card games are a lot of fun. Take turns having someone choose a game everyone plays together. I'm sure you will end up playing a variety of different types of games this way. Some may like silly games like Pie in the Face or Get a Grip while others enjoy Sorry and Monopoly.
My kids are getting older so we play a lot of strategy games. You can read here to find out some of our favorite strategy games. There is quite a variety. Some are cooperative games while some involve only two players.
Indoor Activity 9: Puzzles
Puzzles are a lot of fun. I love how there are puzzles small enough for toddlers to do up to ones that are even challenging for adults.
A few fun ideas with puzzles is to see who can put their puzzle together the fastest or to work on one large puzzle together as a family.
Indoor Activity 10: Acting
Plays
There are several different approaches to take with this. One thing kids can do is write their own play. If they don't want to write their own, they can act out one of their favorite fairy tales, myths, or even books and movies.
Puppet Shows
Another variation on this is to make it into a puppet show. There are so many different ways to make puppets. You can cut out characters in coloring books, make sock puppets or spoon puppets. Kids love paper bag puppets, too.
Fashion Shows
My kids have also put their acting skills to use by putting on fashion shows. One is the announcer and the other is dressed up in weird combinations of clothes. They saunter down the stairs or through the hallway showing off the clothes while the announcer gives commentary on the latest design. It is hilarious.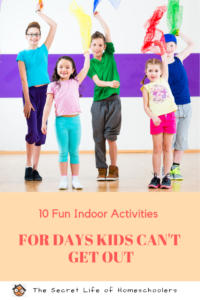 So if you find your kids restless and they don't know what to do, you have some fun indoor activities to help beat boredom or burn off some energy. Try some of them out and let me know what you think.
What indoor activities do you like to do with your kids when they are stuck inside? Share in the comments below.
Please follow and like us: